By Jessica Cabe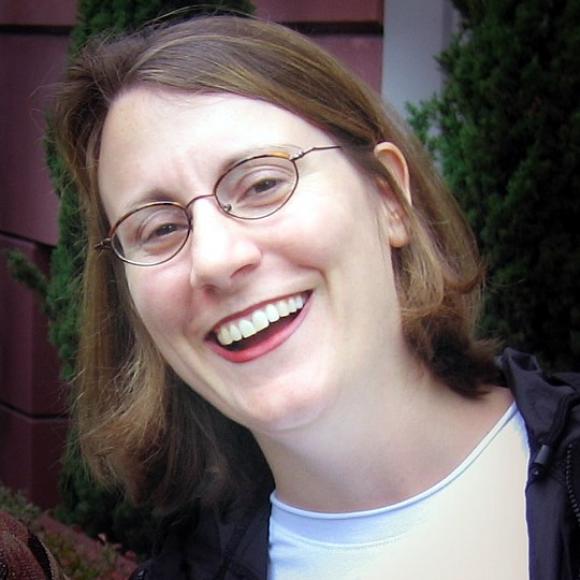 Jessica Bryar, CLA'17
If you ask the loved ones of Jessica Bryar (Civic Leadership Academy '17) to describe what was special about her, you'll find the same word keeps coming up: connector.
Bryar, who was Chief in the Civil Division of the Cook County Public Defender's office, passed away on February 3 at the age of 46. But not before rewriting the book on how parents entering the DCFS system are treated, and not before touching countless lives with unmatched kindness, compassion, tenacity, and humor.
Bryar's work was primarily representing indigent parents in cases where their children were being taken from them, but her passion for this topic led her far outside the public defender's office and into the lives of anyone who could provide a new perspective, help out on a new project, or make another valuable connection.
Her network expanded in 2017 when she joined the University of Chicago's Civic Leadership Academy (CLA), an interdisciplinary leadership development program for emerging and high-potential leaders in nonprofit organizations and local government agencies within Chicago and Cook County. CLA fellows engage in a six-month curriculum that includes lectures, case studies, workshops, conversations with civic leaders throughout Chicago, as well as a weeklong global practicum in Delhi, India.
"In ways both small and profound, Jessica deeply touched the lives of our CLA fellows," said CLA Faculty Director William Howell, the Sydney Stein Professor of American Politics at the University of Chicago Harris School of Public Policy. "She worked in one of the most challenging and contested spaces of civic life. Rather than hardening her, though, she approached this work—as she approached us all—with equanimity, humor, and grace."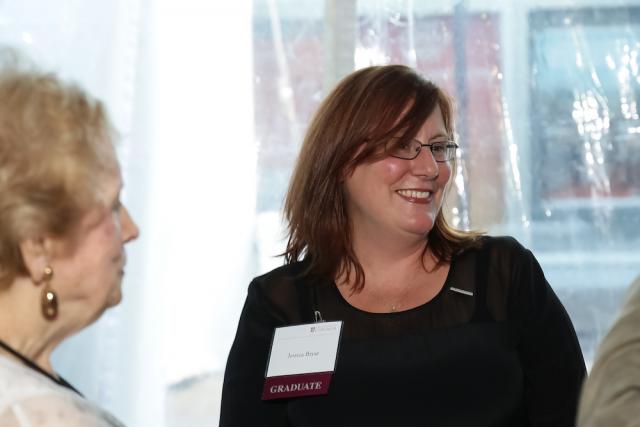 Jessica Bryar
Members of her CLA cohort describe Bryar as a brilliant thinker and communicator, someone who was always laughing, someone who would always check in on others.
"Jessica often spoke about the need to reunite families that had been separated and was working toward connecting colleagues from CLA to the 'kiddie court,' as she called it, in North Lawndale to provide wraparound services to system-involved families," said Jaime Arteaga, Program Officer at Local Initiatives Support Corporation (LISC) and CLA '17 fellow. "What made Jessica special was how she would always end up asking about how you were. I myself was going through a custody issue, and she would constantly check in on me."
Many of Bryar's friends describe her humor as one of the most special things about her—both what would make her laugh as well as how she laughed, a full-body reaction.
"What I always loved was getting Jess to laugh," said Twania Brewster, Vice President of Marketing, Communications, and Guest Operations at the Chicago Children's Museum and '17 CLA fellow. "Sometimes people laugh at, Jessica always laughs with. And if you can get a Jessica laugh, it's always a good, solid humor of the world that was never pejorative. She had the craziest laugh you could possibly imagine. If you were able to get it, you were done for the day. Like, 'Alright, our work here is done.'"
Brewster and Bryar became close during the CLA trip to India, where they met a charismatic nonprofit leader named Sonal Kapoor, who inspired the cohort to think about their world, their connection to the world, and to be advocates for the downtrodden. Kapoor ended up coming to Chicago, where Brewster housed her, and Bryar and other CLA fellows helped make connections for her.
"Jessica and Amy [Crawford, CLA '17] pulled together not only a tour of looking at our system the way we were able to look at the Indian system, but also put together a fundraiser at Chicago Community Trust so that we were able to help Sonal make connections in the U.S.," Brewster said.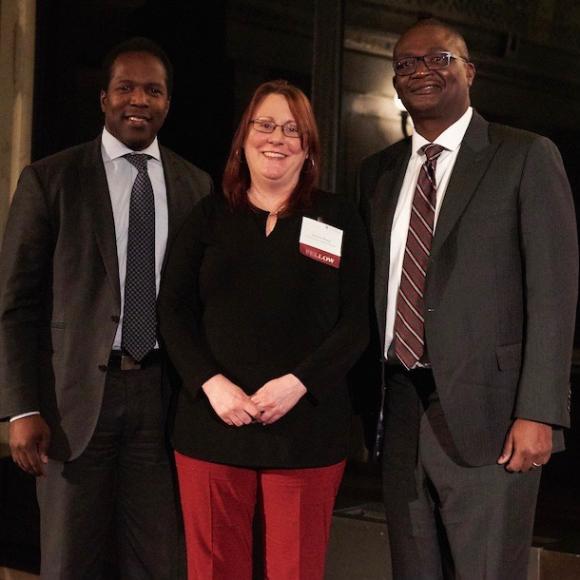 With Derek Douglas of the Office of Civic Engagement and then-interim Harris Dean Kerwin Charles.
Amy Crawford, Deputy Chief of the Civil Actions Bureau at the Cook County State's Attorney's Office and CLA '17 fellow, said that fundraiser for Kapoor is a perfect example of the kind of person Bryar was.
"She was a person who was so passionate and also saw all these connections in different things and was always connecting people," Crawford said. "One of the tragedies of her loss is how much enthusiasm she had for what she was doing and how much unfinished business she left."
An important piece of that unfinished business was with Rachel O'Konis Ruttenberg, Executive Director of the Family Defense Center, a nonprofit organization that works with the same group of people as Bryar did in her role with the public defender's office. Bryar and O'Konis Ruttenberg were working on a plan to reform how parents are treated after being brought into the DCFS system. O'Konis Ruttenberg said she and Bryar spoke by phone just about every other day, and those phone calls are one of the things she misses the most.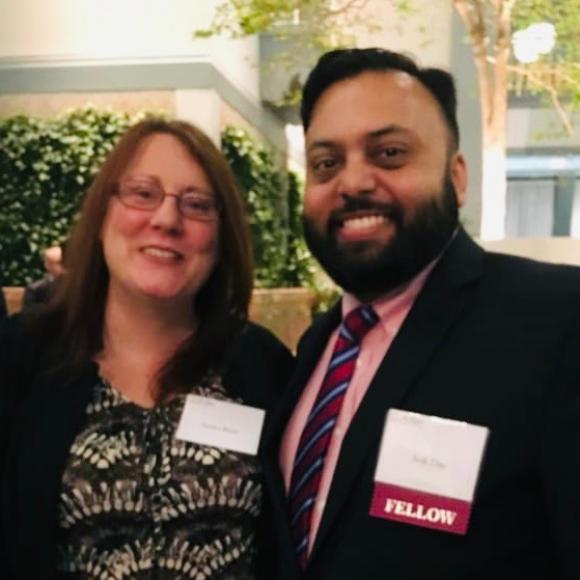 Jessica continued to mentor future CLA Fellows, including Avik Das (CLA'18, pictured), the Acting Director and Chief Probation Officer at the Circuit Court of Cook County, and Ali Ammoura (CLA'19), Assistant Public Defender at the Law Office of the Cook County Public Defender.
"She was constantly calling me from her car," O'Konis Ruttenberg said. "She'd have these lightbulb ideas of who we should talk to next. My memories of her are being on the phone, and she'd be going from a meeting to the car. Or sometimes she would pick up my calls while she was in a meeting and just talk to me in a whisper," she added with a laugh. Bryar would even keep her on the line while putting her cell phone on the security belt at the courthouse. "We were just constantly talking as she was moving through the world. She was all over the place all the time. It was all very messy, but in the best way."
O'Konis Ruttenberg said when she would visit Bryar in the hospital, Bryar would still want to talk about the big picture of their project together. And she was such an inspiring connector that even at her funeral, O'Konis Ruttenberg was thinking, "Who would Jess want me to meet here to help us with our work?"
"As passionate advocates, we worked together, but what brought us together are the values we care about," O'Konis Ruttenberg said. "Jess was very open and real, and she was so positive. She was very open-minded and creative about solving the problems that presented themselves in our work.
"That pretty much sums up Jessica," she said.
On March 20, a resolution honoring Bryar was presented at the Cook County Board meeting. Public Defender Amy Campanelli spearheaded the resolution, sponsored by Cook County Commissioner Larry Suffredin.
"Honoring Jessica Lynn Bryar for a life well lived," the resolution reads. It goes on to list Bryar's accomplishments, both professional and personal, over two pages.
The resolution concludes:
Now, therefore, be it resolved that the Board of Commissioners of Cook County, on behalf of the 5.2 million residents of Cook County takes great pleasure in honoring and celebrating Jessica Bryar's life and her many contributions bettering the lives of the citizens of Cook County, Illinois.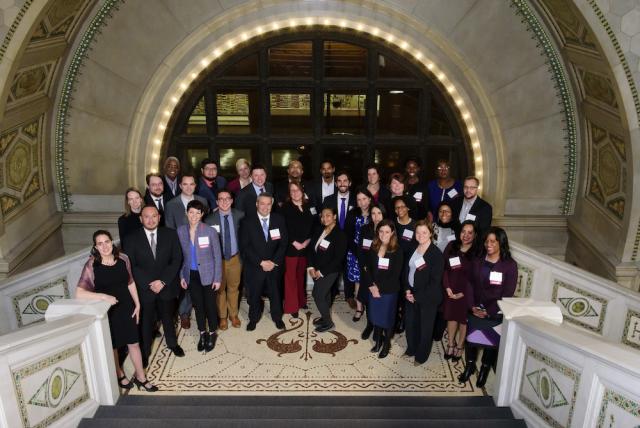 Jessica Bryar and her 2017 cohort of fellows.
Jessica Bryar (CLA'17) Scholarship
We are proud to announce the Jessica Bryar Scholarship, an annual scholarship for future CLA fellows who exemplify Jessica's commitment to the most marginal members of our community. To make a contribution towards this new scholarship, please select Civic Leadership Academy and indicate that your contribution is in memory of Jessica Bryar (CLA`17).
Jessica left a lasting mark on the Civic Leadership Academy. If you would like to share your memories of Jessica, please use this form.