By Jessica Cabe
Changing flights and accommodations four days before a solo trip can be pretty stressful. Changing international flights and accommodations for 30 people four days before a trip—plus putting together from scratch a schedule of high-ranking speakers in the public sector—is a feat that seems downright impossible.
But that's what the administration of the Civic Leadership Academy (CLA) did last month when they changed their annual global practicum from Delhi, India, to London after learning conditions in Delhi may have been unsafe.
"It was a great learning experience for all of us because it showed us leadership in action," said Ali Ammoura, Assistant Public Defender for the Law Office of the Cook County Public Defender and a 2019 CLA fellow. "I thought, 'That's really ambitious.' They spent years perfecting the curriculum for India, and they're going to try to use this opportunity to go to London. I just said, 'Okay, more power to you. These people must be pulling all-nighters and working around the clock to make it happen.' And they made it happen."
The University of Chicago's Civic Leadership Academy is an interdisciplinary leadership development program for emerging and high-potential leaders in nonprofit organizations and local government agencies within Chicago and Cook County. CLA fellows engage in a six-month curriculum that includes lectures, case studies, workshops, conversations with civic leaders throughout Chicago, as well as a weeklong global practicum that, until last month, has always taken place in Delhi.
During the global practicum, fellows travel abroad to meet and learn from civic practitioners from the government and non-profit sectors. During this week, fellows are asked to collect data on the core themes of leadership: what it is, what it isn't, and what it requires. Fellows recognize leadership challenges and strategies, and learn how to translate lessons learned to Chicago. The global practicum allows fellows to think critically about leadership by immersing themselves in a completely new context.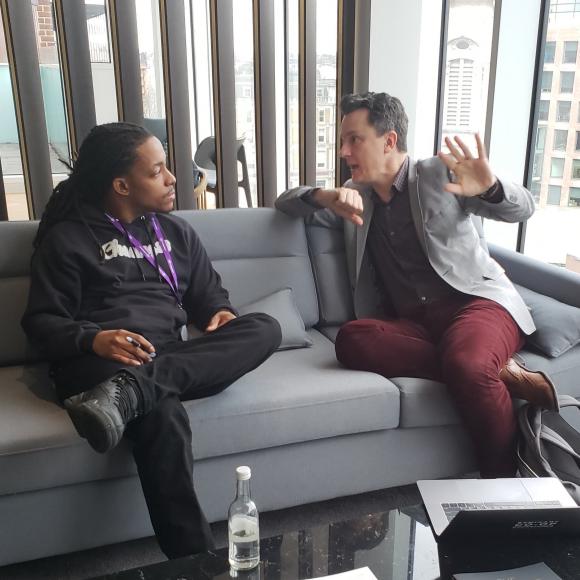 Fellow Darius Ballinger and Professor Will Howell talk policy.
"What an extraordinary week we had," said William Howell, Sydney Stein Professor and Faculty Director for CLA. "Together, we visited with community organizers, health advocates, and terrorism experts. We toured police stations, universities, and religious centers. We discovered points of commonality and difference between our respective cities. And most importantly, our fellows bridged their own many divides and returned stateside with an emboldened sense of shared commitment to Chicago."
Not only was the booking of the trip pulled off—an amazing accomplishment in itself—but it was also a high-quality experience for everyone involved. Fellows described their time in London as eye-opening, engaging, and reflective.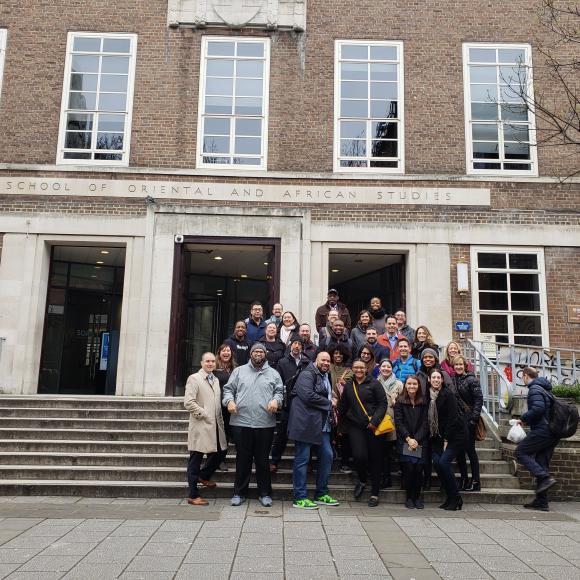 Group photo outside SOAS
"A lot of us who work in the civic arena here in Chicago, we're exposed to Chicago's social issues," Ammoura said. "And then we go to a place like London, and we're exposed to another large metropolitan urban city that is very diverse, that has very similar issues, but at the same time it was a little jarring because we realized they're not exactly the same. They all speak English, they have a lot of the same commercial and cultural landmarks, shops, and some norms like we do, but then there is a difference because of its history. Once we dug a little deeper, it was really eye opening."
Speakers in London included Stella Vig, Clinical Director of National Health Systems – Croydon Hospital; Katherine Mathieson, CEO of the British Science Association; Yvonne Fields, Founder of The UBELE Initiative; Sir Graham Boyce, Former British Ambassador to Qatar, Kuwait and Egypt; Richard Derecki, Senior Manager, Economy, Housing & Regeneration, Greater London Authority; Kamalpreet Dhaliwal, Equality and Inclusion Manager, Strategic Development, of the City of London Police; and more.
In addition to meeting with leadership from London, the global practicum also gave the fellows the opportunity to grow closer.
"I would say one highlight was getting to spend one-on-one time with other members of the cohort," said Katie Olson, Director of Operations and Services at City Tech Collaborative and a 2019 CLA fellow. "Up until this point, we've been meeting in a structured classroom environment, and it was just fantastic to be able to network one-on-one with individuals." Fellows would go on runs in Kensington Gardens, navigate London by the tube, go to theater performances, and more, Olson said.
Waiting for a London double-decker bus
Despite the last-minute nature of the London trip, it turned out to be a valuable lesson in leadership—both in how the CLA administration handled the switch, and in the quality of the curriculum. This is not surprising, according to Cynthia Miller, Chicago Public School Principal at Fiske Elementary IB World School and 2019 CLA fellow. She said the entire experience with CLA so far has been invaluable.
"CLA has been absolutely—I don't even know if I can find a word in the dictionary to describe it," Miller said. "I will say that every session has been thought-provoking. We're always engaged, and we're always reflective. The conversations are very real, raw, and relevant, and the experience has been most rewarding."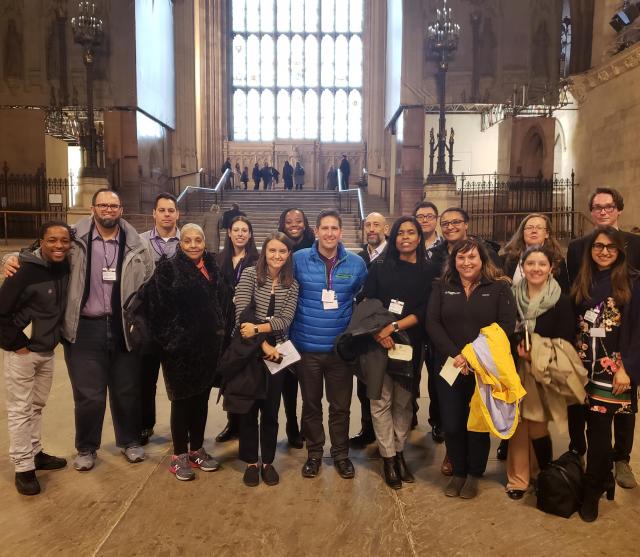 Fellows at the British House of Lords